Germany


ZINKPOWER Meckenheim GmbH & Co KG
Product range
Currently ZINKPOWER Meckenheim offers hot-dip galvanizing, powder coating, duplex systems by ZINC+COLOUR and colour coating. The company was founded in 1912 in Cologne. In 1995, the relocation took place to the newly built premises in Meckenheim. ZINKPOWER Meckenheim has belonged to the ZINKPOWER Group since 2000.

Powder coating as a duplex system: Zinc + Colour
We are your one-stop shop for hot-dip galvanizing and powder coating. You select the colour and gloss level or the texture of the powder coating – we take care of the rest. The result: comprehensive corrosion protection with only a single contact for galvanizing and coating.
Kettle dimensions: 13,0 x 2,0 x 3,4 m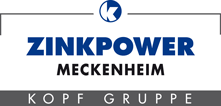 Heidestraße 20
D-53340 Meckenheim
Phone +49 (0) 2225 / 91450-0
Fax +49 (0) 2225 / 91450-20
meckenheim@zinkpower.com
Receipt/Delivery:
Mon - Thu 7:00am - 5:00pm
Fri 7:00am - 3:00 pm
Services
Express-Service
Consulting during the design and construction phase
Corrosion protection consulting
Regular deliveries to Düren area, Erft-Kreis, Bergisches Land, Köln area, Bonn-Euskirchen area, Rhein-Sieg area
Collection points in Siegburg, Eitorf and Bergisch-Gladbach
Deliveries of materials to the building site
Your contact partner:
Udo Scholz
Sales manager
Phone +49 (0) 2225 / 91450-0
Klaudia Nieder
Sales
Phone +49 (0) 2225 / 91450-0