Poland


ZINKPOWER Buk Sp. z o.o.
Product range
Quality, customer satisfaction and sustainability with customer satisfaction – these are the cornerstones of our philosophy, at ZINKPOWER Buk as well. Thanks to its hot-dip galvanizing process, our galvanizing plant in Buk offers comprehensive protection for steel and metal structures. Apart from hot-dip galvanizing, our employees in Buk are also your contacts for individual logistic concepts and also professional advisers for hot-dip galvanized structures.

The hot-dip-galvanizing plant is situated directly on the motorway between Poznan and Frankfurt/Oder and was inaugurated in September 2011.

Powder coating using the duplex system: ZINKPOWER Standard, Premium and Extreme Coating
These exclusive ZINKPOWER solutions for one-stop hot-dip galvanizing + powder coating are solely offered by our hot-dip galvanizing plants. ZINKPOWER Coating offers three key benefits:
The type of powder coating is matched to the requirements of the respective corrosivity category (up to C5-M) at the installation site and is tested by renowned research institutes. The protective life of our ZINKPOWER Coating Systems is significantly longer than that of corrosion protection systems prepared by sweeping or the application of zinc phosphate to the surface treatment. And in line with our mission statement – simple, perfect, reliable – hot-dip galvanizing is offered with powder coating as a one-stop service under one roof.
Kettle dimensions: 7,0 x 1,8 x 3,0 m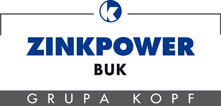 ul. Modrzewiowa 8
Niepruszewo/k. Poznan
64-320 Buk
Phone +48 (0) 61 / 222 53 43
Fax +48 (0) 61 / 222 53 44
buk@zinkpower.com
Receipt/Delivery:
Mon - Fri 6:00am - 10:00pm
Services
Express-Service
Consulting during the design and construction phase
Corrosion protection consulting
Regular deliveries
Full-Service Logistics
Custom-made logistic services
Deliveries of materials to the building site
Assembly-ready completion of construction components
Packing
Storing