Austria


ZINKPOWER Brunn GmbH
Product range
ZINKPOWER Brunn also offers colour coating in a duplex system – ZINKPOWER Coating – in addition to traditional corrosion protection by hot-dip galvanizing. It also offers the galvanizing of small parts in a normal temperature process.

Steel has been hot-dip galvanized in Brunn since 1916. In 1926, the Bablik brothers took over the galvanizing operation, changed the name to Brunner Verzinkerei Brüder Bablik and developed the operation into a hot-dip galvanizing mecca in the 1950s. Today, ZINKPOWER Brunn also operates a zinc recycling plant in addition to the hot-dip galvanizing plant.

Hot-dip galvanizing:
Due to our network of companies we are able to galvanize steel up to a length of 15.5 m, 2.2 m width, 3.2 m depth and a piece weight up to 12 tons.

Powder coating using the duplex system: ZINKPOWER Standard, Premium and Extreme Coating
These exclusive ZINKPOWER solutions for one-stop hot-dip galvanizing + powder coating are solely offered by our hot-dip galvanizing plants. ZINKPOWER Coating offers three key benefits:
The type of powder coating is matched to the requirements of the respective corrosivity category (up to C5-M) at the installation site and is tested by renowned research institutes. The protective life of our ZINKPOWER Coating Systems is significantly longer than that of corrosion protection systems prepared by sweeping or the application of zinc phosphate to the surface treatment. And in line with our mission statement – simple, perfect, reliable – hot-dip galvanizing is offered with powder coating as a one-stop service under one roof.
Kettle dimensions: 13,0 x 1,5 x 3,0 m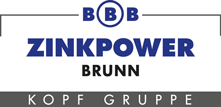 Heinrich Bablik Straße 17
A-2345 Brunn / Gebirge
Phone +43 (0) 2236 / 305-0
Fax +43 (0) 2236 / 305-327
bbb@zinkpower.com
Receipt/Delivery:
Mon - Thu 6:00am -5:00pm
Fri 6:00am - 2:00pm
Services
Express-Service
Consulting during the design and construction phase
Corrosion protection consulting
Support with final building inspections
Regular deliveries to Oberösterreich, Niederösterreich, Wien, Burgenland and Steiermark
Centrally located collection points
Custom-made logistic services
Full-Service Logistics
Deliveries of materials to the building site
Assembly-ready completion of construction components
Storing
Packing
Sandblasting
Paint removal