ZINKPOWER Roudnice s.r.o.
Product range
The galvanizing plant was built in 1995. ZINKPOWER Roudnice was the first galvanizing plant of the ZINKPOWER Group in the Czech Republic and is situated to the north of the Czech capital city of Prague.

Hot-dip galvanizing:
Due to our network of companies we are able to galvanize steel up to a length of 13.5 m.
Kettle dimensions: 7,0 x 1,8 x 3,0 m
Usable Dimensions: 6,5 x 1,6 x 2,4 m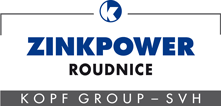 Hálkova 2490
CZ-413 01 Roudnice n. Labem
Phone +420 / 416 841 309
Fax +420 / 416 841 525
roudnice@zinkpower.com
Receipt/Delivery:
Mon - Thu 6:00am - 5:00pm
Fri 6:00am - 4:00pm
Services
Express-Service
Consulting during the design and construction phase
Corrosion protection consulting
Support with final building inspections
Custom-made logistic services
Deliveries of materials to the building site
Assembly-ready completion of construction components
Packing
Storing