Product range
Hot-dip-galvanizing has been performed here since 1916. In 1926, the Bablik brothers took over the operation, changed the name to Brunner Verzinkerei Brüder Bablik and developed the operation into a galvanizing mecca in the 1950s. Today, ZINKPOWER Brunn also operates a zinc recycling plant in addition to the hot-dip-galvanizing here.

Hot-dip galvanizing:
Due to our network of companies we are able to galvanize steel up to a length of 15.5 m, 2.2 m width, 3.2 m depth and a piece weight up to 12 tons.
Kettle dimensions: 13,0 x 1,5 x 3,0 m
Usable Dimensions: 12,5 x 1,25 x 2,5 m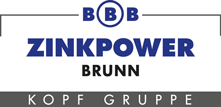 Heinrich Bablik Straße 17
A-2345 Brunn / Gebirge
Phone +43 (0) 2236 / 305-0
Fax +43 (0) 2236 / 305-327
bbb@zinkpower.com
Receipt/Delivery:
Mon - Thu 6:00am -5:00pm
Fri 6:00am - 2:00pm
Services
Express-Service
Consulting during the design and construction phase
Corrosion protection consulting
Support with final building inspections
Regular deliveries to Oberösterreich, Niederösterreich, Wien, Burgenland and Steiermark
Centrally located collection points
Custom-made logistic services
Full-Service Logistics
Deliveries of materials to the building site
Assembly-ready completion of construction components
Storing
Packing
Sandblasting
Paint removal
Your contact partner:
Ali Aras
Plant manager
Phone +43 (0) 2236 / 305-315